Determining how much a car accident lawyer costs usually depends on how the lawyer charges for legal services, if the case goes to court, and the timeline of the case. Car accidents involving injuries and property damages need a car accident lawyer who can navigate the complexities of these cases, especially if there are multiple parties at fault for the accident.
Costs and Expenses In a Car Accident Case
Over the course of 50-year driving history, an average driver will be involved in at least 3 to 4 car accidents. According to the National Safety Council, there are about 10 million reported car accidents in the United States each year. Although statistics show that most accidents don't result in fatalities, the majority do result in physical injuries and property damages, which can be costly.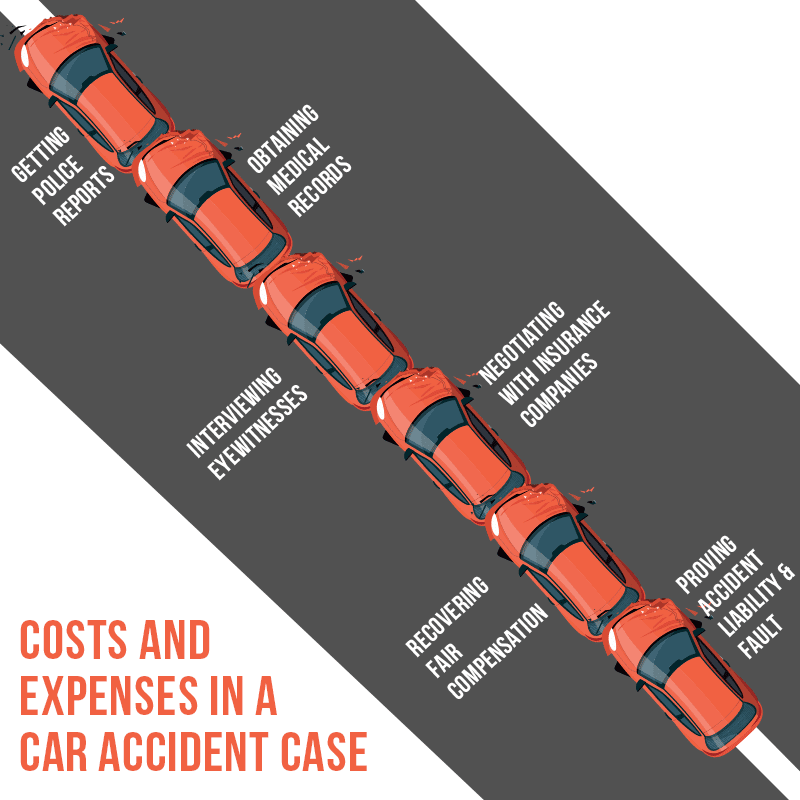 In 2010, the average car accident claim that involved injuries was $23,450. Over the next two years, the average claim increased by about 10 percent to $26,000. Injury claims included economic losses for medical expenses, lost wages, and other out-of-pocket expenditures. In 2018, the average car accident claim rose to $31,000 mostly due to soaring medical costs including hospitalization, surgical costs, doctor's visits, and rehabilitation and therapy costs.
Since no two car accidents are alike and no two injury victims have the same losses, car accident cases can be complex. To recover adequate and fair damages for injuries and property damages, it's best to work with a car accident lawyer who can address complicated legal issues. Determining how much a car accident lawyer costs usually depends on the severity of the victim's injuries, who's at fault for the accident, and whether the case goes to court or settles with an insurance company. Insurance claims for car accidents are typically grouped into three categories:
General Damages
Most car accident victims who sustain injuries experience general damages. They include physical pain and suffering, emotional trauma, diminished enjoyment of life, and lost companionship. It's difficult to assign a monetary value to general damages because no two injuries are alike, and no two injury victims experience the same pain and suffering.
Special Damages
Special damages refer to a person's monetary losses caused by a car accident. These damages include past and future medical expenses, the costs of medical treatments and surgeries, the value of lost wages and earning opportunities, and the costs of property damage repairs. Special damages are easier to put a value on because they are based on documented evidence that supports medical claims and lost wages.
Punitive Damages
Punitive damages do not apply to all car accident claims. Punitive damages are an additional form of compensation awarded by a judge if he/she does not think compensatory damages are enough. Punitive damages are most common in cases where the defendant is guilty of gross negligence, such as speeding, drunk or impaired driving, or intent to commit harm to another person.
A Car Accident Lawyer's Contingency Fee
When a legal claim is handled on a contingency basis, this means the client pays no legal fees unless the lawyer successfully wins or settles the case. Contingency fees are commonly used by lawyers in car accident cases, personal injury cases, workers' compensation cases, and other types of civil cases where the client is seeking monetary damages.
Working on a contingency basis reduces the overall legal costs for a car accident victim because there are no upfront charges or retainer fees. If the case is resolved successfully, the client pays the lawyer a percentage of the dollar amount awarded by the court. This is an advantage for people who can't afford the cost of legal help. Contingency fees make it much easier for car accident victims to seek recourse for their injuries and damages without worrying about how much a car accident lawyer costs.
Serious car accident cases often involve high medical bills, loss of income, and physical rehabilitation costs. Accident victims don't know when to get an attorney for a car accident. With limited resources, many injury victims attempt to file accident claims on their own, but usually face obstacles from high-pressure insurance companies and claims adjusters. As a result, many victims are forced to deal with denied claims and small, unfair settlement offers. Working with a car accident lawyer on a contingency basis levels the playing field, because insurance companies know that contingency arrangements indicate a strong legal case for the accident victim. Typically, lawyers don't take cases on contingency fees unless they think they can win the case.
Generally, contingency fees are calculated at 33% of the total amount of the compensation awarded by the court, however, percentages can range from 25% to 40%. For example, if the contingency fee is set at 33% and the lawyer recovers $100,000 in a car accident case, the lawyer will receive around $33,000. If the lawyer wins the case, legal fees come out of the total money awarded.
When a case is based on contingency fees, the client will likely be responsible for other fees, whether the case is won or lost. These fees may include the following:
Copies of medical records
Court costs, including transcript copies
Administrative costs for legal research, copying, postage, and trial exhibits
Fees paid to expert witnesses
Deposition expenses
Other Kinds of Car Accident Case Fee Arrangements
How much a car accident lawyer costs can vary based on the fee arrangements established between the lawyer and the client. While some car accident cases are handled through contingency fees, others may involve different fee arrangements such as initial retainers, flat fees, and hourly fees.
Retainers
Some lawyers may collect an initial retainer to begin the case, then also collect a contingency fee at the end of the case. However, most amounts paid to the lawyer upfront are subtracted from the percentage due to the attorney at the end of the case. For example, if a client pays an upfront retainer fee of $2,000, then the attorney recovers $90,000 in a settlement agreement, the attorney will receive about $28,000 from the settlement ($30,000 (based on a 33% contingency fee minus $2,000 = $28,000).
Flat Fees
Typically, flat-fee arrangements are reserved for minor car accidents and less-complex cases. Car accident lawyers usually charge a flat fee when legal representation is limited in a case. For example, a car accident lawyer may charge a flat fee when a client needs a one-time, specific task like getting documents, filing certain papers, or sending a demand letter after a car accident.
Hourly Fees
Hourly fees are rarely used in car accident cases because they are not reasonable. With hourly rates that range from $200 to $500 per hour for most experienced lawyers, legal fees could reach thousands of dollars in a very short time. In complex car accident cases, hourly fees would make legal representation completely unaffordable for many car accident victims who need help the most.
Is a Car Accident Lawyer Worth The Cost?
When considering how much a car accident lawyer costs, and if legal representation is worth that cost, the answer is yes. When you want the best car accident attorney to ensure a successful outcome, understanding the costs and the benefits is crucial.
When a car accident occurs, a car accident lawyer has the legal knowledge and experience to help with a variety of issues that are necessary to the case such as:
Obtaining medical records from hospitals and doctors
Getting police reports of the accident
Interviewing eyewitnesses
Negotiating settlements with insurance companies
Proving accident liability and fault
Recovering fair compensation for damages
Obtaining quality medical care after a car accident is essential, especially when injuries occur. Injury victims should see a licensed physician as soon as possible to have injuries evaluated and get proper medical treatment to avoid complications. In many cases, even small fender benders can lead to serious injuries and complications without immediate medical treatment.
In more serious car accidents, injury symptoms may not be immediately apparent. Some injuries have delayed symptoms that may not show up for several weeks or even several months after the car accident. Internal injuries like punctured organs, slipped discs, torn ligaments, kidney damage, and head trauma often have vague symptoms that mimic symptoms of minor injuries or illnesses. There is no way to see or evaluate internal injuries without medical tests like X-rays, CT scans, and MRIs.
Working with a car accident lawyer can ensure a successful case outcome and the best monetary compensation for the injury victim. How much a car accident lawyer costs is secondary to getting adequate compensation for essential medical expenses and lost wages due to necessary recovery time. When car accidents cause serious injuries, injury victims need to focus on their proper medical care and recovery and leave complicated legal matters to a knowledgeable and experienced car accident lawyer.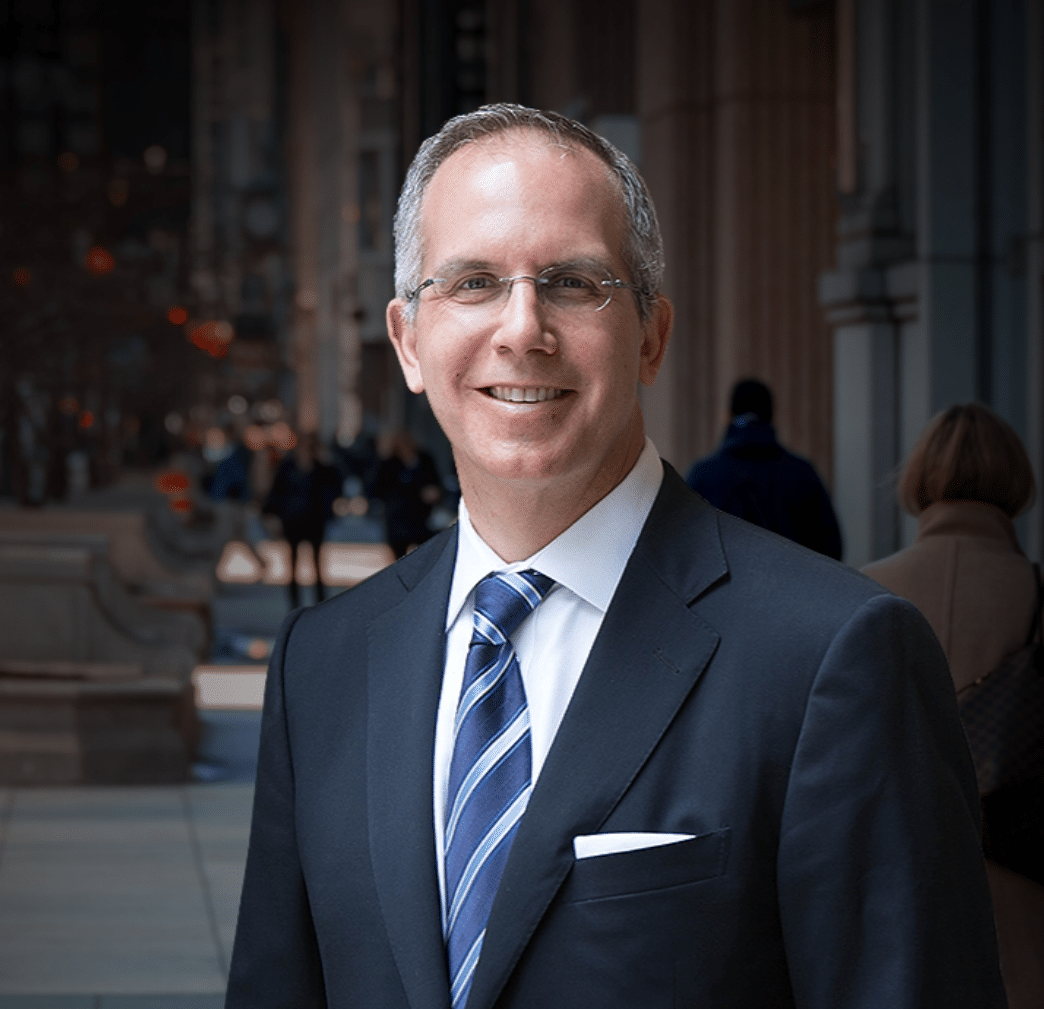 Chicago personal injury and workers' compensation attorney Howard Ankin has a passion for justice and a relentless commitment to defending injured victims throughout the Chicagoland area. With decades of experience achieving justice on behalf of the people of Chicago, Howard has earned a reputation as a proven leader in and out of the courtroom. Respected by peers and clients alike, Howard's multifaceted approach to the law and empathetic nature have secured him a spot as an influential figure in the Illinois legal system.