This holiday season Ankin Law contributed to Operation Holiday Drive by hosting its' first-ever toy drive in the lobby of their 10 North Dearborn Street Office. The toys, collected throughout the month of December were delivered to Another Chance Church led by pastor Kenyatta Smith at 9550 South Harvard and added to the church's Operation Holiday Drive toy collection.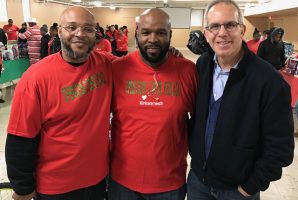 On the evening of Friday, December 21, a line of eager parents and children stretched out the door, around the church and into the parking lot as the kids awaited their chance to receive a holiday gift. Ankin Law along with IlliniCare and T-Mobile partnered with individual contributors to donate 5000 toys on Friday alone. By the time the doors opened the goal of collecting 10,000 gifts was realized! Classic dolls, action figures, bikes and board games were handed out as well as many high-tech gifts like hover boards, remote-controlled cars, lap tops and X-Boxes.
In an area of Chicago well-known for un-employment, under-employment and gun violence, the toy drive was a welcome respite and greatly appreciated by the community. Many of the families who attended wouldn't have been able to get their kids a gift this year without the toy drive.
"You know it's one thing to feel good about collecting toys for families in need and feel a sense of pride about that. It's quite another thing to be here tonight, meet the people and see the children's faces. We didn't just provide toys we provided hope."   – Howard Ankin
Attorney Howard Ankin, Managing Attorney Ian Zenziper and Marketing Director Eric Revels attended the event and were moved not only by the generosity of the donors, but the graciousness of the kids as well. With the belief that no child should be without a holiday gift everyone at Ankin law was thrilled with the results of the evening.
The event, which was covered by ABC Channel 7 on their 10:00pm broadcast, went on until the wee hours of the night. The final toy was handed out at 1:00am.