Premises liability law involves the legal responsibility of owners and occupiers of property for mishaps experienced by persons on the property and the resulting injuries. One of the most common causes of such injuries is a trip or slip and fall, such as on an icy sidewalk, a loose or uneven stair tread, a piece of debris or spilled liquid on the floor. The actual liability of the potentially responsible individuals varies depending on the rules and principles adopted in the jurisdiction where the mishap occurred. An experienced premises liability lawyer can determine whether liability may exist in a particular case and help an injured person recover damages for lost wages, medical bills, and pain and suffering.
Request a FREE Case Evaluation
General Premises Liability Principles in Personal Injury Cases
Some states' premises liability laws focus on the status of the visitor to the property. In such states, the plaintiff is generally defined as either an invitee, a licensee, or a trespasser. An invitee is someone who is expressly or impliedly invited onto the property of another. The owner owes the invitee the highest duty of care, which includes taking every reasonable precaution to ensure the invitee's safety. A licensee, by contrast, enters the property for his or her own purposes but is present at the consent of the owner. The owner is required to warn a licensee of hidden dangers, but is not necessarily required to fix them. And finally, a trespasser enters without any right whatsoever to do so. In the case of adult trespassers, the owner has no duty of care and need not take reasonable care of his property or warn of hidden dangers.
Even if the plaintiff is a trespasser, he or she may still be able to recover, however, if the plaintiff can show that the owner knew it was likely that trespassers would enter the property. And children are owed a higher duty of care, regardless of whether they are considered trespassers. A landowner's duty to warn is also heightened with respect to children.
In states where consideration is given to the condition of the property and the activities of the owner and visitor, a uniform standard of care is applied to both invitees and licensees. This uniform standard requires the exercise of reasonable care for the safety of visitors other than trespassers. In order to satisfy the reasonableness standard owed to invitees and licensees, an owner has a continuing duty to inspect the property, identify dangerous conditions, and either repair them or post warnings as appropriate.
In proving a premises liability case, a plaintiff must show that the standard of reasonableness required by an owner has not been met. Perhaps the highest hurdle that a plaintiff must overcome relates to the owner's knowledge. The plaintiff must prove that the owner had or should have had knowledge of the condition in order for liability to attach, which is often quite often difficult to establish.
One of the commonly applied theories to limit a plaintiff's recovery is comparative or contributory fault. A visitor has a duty, in most cases, to exercise reasonable care for his or her own safety, and when that degree of care is not exercised, the plaintiff's recovery may be limited or reduced by an amount attributable to his or her own negligence.
Slip & Fall Personal Injury Cases
Slip and fall injuries are, as the name implies, injuries that occur when a person slips, usually on a foreign substance or as a result of a dangerous condition, and falls. A common slip and fall case occurs when someone slips on an icy sidewalk in front of a business, or a customer in a grocery store slips on a grape, lettuce leaf, or other food item that has fallen on the floor.
The premises owner may or may not be liable for the plaintiff's injuries in these common scenarios. Although owners and possessors of real property have a duty to exercise reasonable care to maintain the premises to protect lawful visitors, if a condition of the premises is noticed by a customer or other visitor or should be readily apparent, the property owner may avoid liability because the plaintiff has a duty to protect himself or herself against the injury. The property owner may also avoid liability by establishing that the debris had so recently fallen on the floor or that the ice had so recently accumulated that the responsible persons had no reasonable opportunity to correct the condition and avoid the hazard before the plaintiff fell. In other words, the plaintiff in a slip and fall case, whether it occurs in a grocery store or elsewhere, must show that the owner had a reasonable period of time in which to discover the dangerous condition and in which to remedy it. The determination of what constitutes a reasonable time will vary from case to case.
Even common accidents such as slips and falls can present complex legal issues and complicated questions of both fact and law. Accordingly, if you have been injured in a premises-related case, an experienced and knowledgeable personal injury attorney with premises liability experience is in the best position to advise you on your rights and secure a favorable outcome.
Slip and fall victims often find their claims denied by insurance companies for various legal reasons. The law surrounding premises liability cases offers property owners, and their insurance carriers, several legal defenses. A slip and fall lawyer can help victims build a successful case and fight to get the compensation they deserve. 
Personal Injury Lawyers at Ankin Law:
"What if I Slip And Fall?"
Howard answers the most common questions
What Is a Slip And Fall Claim?
A slip and fall claims fall under premises liability. Slip and falls occur when a victim suffers an injury due to the presence of a dangerous condition on a property.  Dangerous conditions arise because property owners fail to take care of their property. The Illinois Premises Liability Act imposes a duty on property owners to provide reasonable care to people that are present on the property. Property owners must ensure the property is reasonably safe and must perform maintenance.
How Is a Slip and Fall Case Investigated and Prepared?
To assert a successful slip and fall claim, a victim must prove a property owner knew or should have known of a dangerous condition, and failed to provide warning or remedy the condition. A slip and fall lawyer can gather crucial evidence such as photographs, surveillance video, and maintenance records. An attorney can also find and interview potential witnesses. An attorney can also use this evidence to defeat common defenses used in slip and fall cases.
How Are Legal Defenses Defeated?
Property owners may argue that they are not liable as they had no knowledge or reason to know of the existence of a dangerous condition on their property. Property owners may also argue that under Illinois's modified comparative law, a victim is barred from recovering anything on the basis that the victim is 50%, or more, at fault. Building a strong case increases the likelihood that a victim's case will overcome these defenses.
What Types of Compensation Can Be Claimed?
Victims can seek damages at trial based on the cost of their medical treatment, lost wages, and pain and suffering. Building a strong case increases the chances of obtaining a favorable verdict at trial. A well-prepared case creates a strong incentive for a property owner and his or her insurance carrier to settle out of court in lieu of proceeding to trial.
Protecting the rights of injured people since 1940.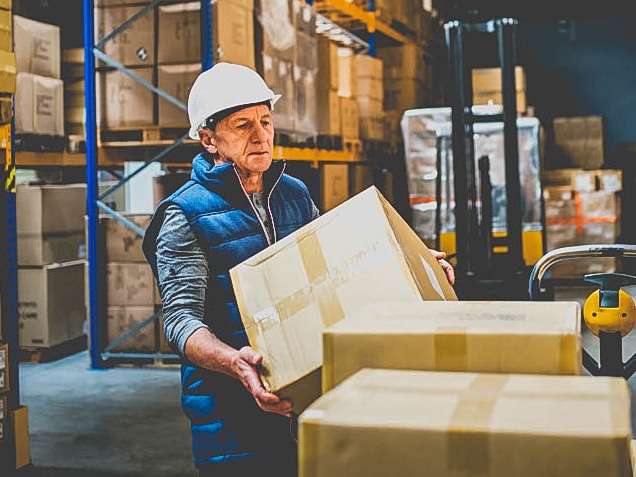 Workers' Compensation
If your workers' comp claim is denied, you can appeal the decision by going through the Workers' Compensation Appeals Board (WCAB). When appealing a workers' compensation
Workers' Compensation
Knowing how to act during a workers' compensation deposition can improve your chances of achieving a favorable outcome. When undergoing a workers' compensation deposition, it's
Workers' Compensation
After an injury, you may wonder, "does my employer have to hold my job while I'm on workers' com?" Your employer does not have to