Children who have physical and/or mental disabilities may be eligible for Social Security Disability (SSI) benefits to help with basic needs and medical expenses. An SSI lawyer can help you understand how to apply for disability for a child and what to expect as the claims process proceeds.
Supplemental Security Income for Children
Managed by the federal government, Social Security Disability Insurance (SSDI) is a program that provides help to American workers who suffer from disabilities. By working and paying Social Security taxes on their earnings, workers and their dependents become eligible for SSDI benefits. For workers who can no longer work due to a physical and/or mental disability, SSDI benefits are provided to replace a portion of lost income. The Supplemental Security Income (SSI) program pays benefits to both adults and children with disabilities who have limited income and resources.
While SSDI and SSI programs are different, the medical requirements are the same. If an adult or a child meets the nonmedical requirements, monthly benefits are paid as long as the disabling medical condition is expected to last at least one year or result in death for the individual. Supplemental Security Income (SSI) is a Federal income supplement program funded by general tax revenues. It is designed to help adults and children who have a disabling medical conditions and little or no income. SSI benefits provide cash to meet a person's basic needs for food, clothing, and shelter.
SSI Eligibility for Children
To determine basic eligibility for a child, the child must be under age 18, not married, and living at home with his/her parent(s) who do not receive SSI benefits. When all of these conditions apply, a portion of the parent's income and resources will be considered because they are available to the child. If the child lives with a parent and a stepparent or an adoptive parent, the same conditions for eligibility apply. If a child is temporarily away at school, returns home during weekends, holidays, or during the summer, and remains subject to parental control, the same conditions for eligibility apply.
Under federal guidelines, a child must be physically disabled, mentally disabled, or blind to be eligible for SSI benefits. When applying for Social Security disability for children, the following will apply:
A child may be eligible for SSI disability benefits beginning as early as his/her date of birth. There is no minimum age requirement established for disabilities.
A child may be eligible for SSI disability benefits until he/she reaches 18 years of age.
When a child reaches 18 years of age, his/her impairments are evaluated based on the definition of disability for adults.
A child with a visual impairment may be eligible for SSI benefits based on blindness. If a child is blind, he/she meets the same definition of "blind" that applies to adults.
A child has a medically diagnosed physical and/or mental impairment or impairments that result in marked and severe functional limitations.
A child's impairment(s) has lasted or can be expected to last for a continuous period of at least 12 months or be expected to result in death.
When a disabled child reaches age 18, marries, or no longer lives with a parent or stepparent, the child's SSI benefits will change. The child may then be eligible for Medicaid under a State home care plan. In Illinois, people with disabilities who are over 18 years old, have low income, and are state residents can qualify for Medicaid to help pay for their medical bills.
Disabling Childhood Conditions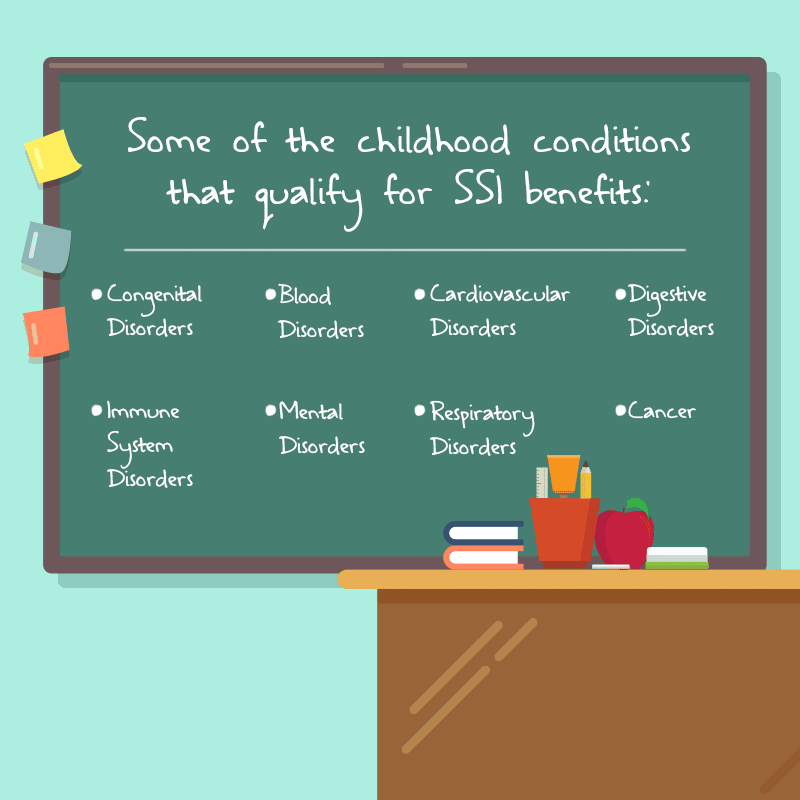 SSI guidelines include an extensive list of disabling childhood conditions that qualify children under age 18 for SSI benefits. The following is only a partial list of qualifying conditions:
Congenital Disorders
Congenital disorders that affect multiple body systems may include injuries that occur at birth. Down syndrome is a genetic disorder that often causes facial deformities, physical impairments, delayed physical development, and intellectual disabilities. Children with non-mosaic Down syndrome may also have congenital heart disease, impaired vision, hearing problems, and other disorders.
Blood Disorders
Non-malignant hematological disorders often disrupt the normal development and function of white blood cells, red blood cells, platelets, and clotting-factor proteins (factors). Malignant (cancerous) hematological disorders such as leukemia, lymphoma, and multiple myeloma often affect the nervous system and vital organs, which can lead to death.
Cancer
Childhood cancers often attack various organs and different parts of the body. While some are treatable with surgery or chemotherapy to remove or shrink tumors, others are more invasive and spread rapidly throughout the body. Cancers in children must be evaluated based on the age of the child, the type of cancer, anticancer therapies, expected prognosis, and child survival rates.
Cardiovascular Disorders
Cardiovascular disorders in children often affect the proper functioning of the heart or the circulatory system including the arteries, capillaries, veins, and lymphatic system. In children, these disorders can be congenital or acquired in the early childhood years. Cardiovascular disorders can lead to ventricular dysfunction, recurring arrhythmias, rheumatic heart disease, chronic heart failure, and the need for a heart transplant.
Digestive Disorders
Disorders of the digestive system include gastrointestinal hemorrhage, liver dysfunction, inflammatory bowel disease, short bowel syndrome, and malnutrition. Congenital abnormalities involving the organs of the gastrointestinal system can interfere with a child's ability to maintain adequate nutrition, as well as normal growth and development.
Immune System Disorders
Childhood immune system disorders may result in inflammation and dysfunction of the body's own tissues and a variety of recurrent infections. Children with immune system disorders commonly develop involuntary weight loss, arrested growth development, musculoskeletal pain, malaise and energy loss, fevers, and severe fatigue.
Mental Disorders
SSI listings for mental disorders for children are arranged in 12 categories, including autism spectrum disorders; anxiety and obsessive-compulsive disorders; depression, bipolar and related disorders; personality and impulse-control disorders; and schizophrenia and other psychotic disorders. These listings apply to children ranging from 3 to 18 years of age.
Respiratory Disorders
Disabling respiratory disorders in children include a long list of conditions that obstruct airflow to the lungs. Common disabilities include asthma, chronic lung disease, cystic fibrosis, and pulmonary fibrosis. SSI for children is assessed according to the severity of respiratory disorders, the need for supplemental oxygen, and the impact on daily activities.
When evaluating disabilities and impairments for children, SSA relies on a Listing of Impairments (called the blue book) that outlines impairments that automatically deem a person disabled. While Part A of the blue book addresses adult disabilities, Part B of the blue book addresses separate disability listings for children. In some cases, the criteria are the same for adults and children.
If a child's medical condition does not meet the requirements outlined in a disability listing or doesn't match the severity noted in a listing, the child may still be deemed disabled if the child's functional limitations that are "marked and severe." Such limitations must severely affect the child's ability to function on a daily basis.
How to Get SSI for a Child
Applying for SSI for a child requires 2 essential steps – an application for SSI benefits and a review of the application. The application can be filled out and submitted online or handled by a Social Security disability lawyer who can ensure that all questions are answered correctly.
Step 1 – Requires an application that includes a Child Disability Report, which usually takes about an hour to complete. This report requires information about the child's disabling condition and how it affects the child's ability to function.
Step 2 – After the Child Disability Report is submitted, a representative with Social Security will initiate a phone call usually within 3-5 days to review the report, discuss the household income and resources, and begin the SSI application process.
After the application is submitted and reviewed, a Social Security representative will usually schedule an appointment date and time by mail or email within 7-14 business days to the person who filed the application.
Medical Evidence Requirements for Children
When filing a claim, it's important to know how to document a medical condition for SSD. To prove that a child meets or equals a disability listing or has functional limitations that are marked and severe, a considerable amount of medical evidence is required. The amount of medical evidence required usually depends on the child's impairment and the severity of the child's impairment. Medical evidence may involve proof of doctors' appointments, physical exams, written doctors' prognoses, lab reports, X-rays, MRIs, Ultrasounds, prescription medications, and follow-up exams.
For children, medical reports must compare the child's functional abilities to other children of the same age without impairments. The SSA will also consider school records and reports in considering the child's level of impairment. Functions that should be compared include learning and using information, the ability to complete tasks, the ability to interact appropriately with others, the ability to walk and use their hands, and taking care of themselves (as appropriate for their age).
If more medical information is required, SSA may want the child to have additional medical exams and medical tests. If additional exams or tests are required, the SSA will cover the costs, as long as they are performed by licensed medical doctors (MDs) and licensed psychologists or psychiatrists.
Appealing an SSI Denial
Unfortunately, many SSI claims are denied during the first phase of the approval process. However, the chance of getting approved for benefits goes up for people who take the time to file an appeal. When an SSI claim is denied, it's important to understand how the appeals process works. Knowing when to refile your claim can make a big impact on the success of claim approval the second time around. SSI claims are denied for a variety of reasons. Some of the most common include:
Lack of Medical Proof
Any SSI claim lacking proper medical evidence will likely be denied. When filing a claim, it's essential to gather medical evidence to build a strong case. It may be necessary to work with a Social Security disability lawyer who can gather the proper evidence to support the claim.
Not Following Doctor's Orders
Many SSI applicants can prove they visited their doctor for exams and treatments, but not all applicants can prove they followed through on their doctor's advice. This may include visits to specialists, getting physical therapy, filling prescriptions, and returning for follow-up appointments.
Too Much Income
SSI benefits are meant for people who are categorized as low-income or very low-income. SSA has strict income requirements and limitations that will impact claim approvals and denials. When your SSD claim is denied, it may be due to your income exceeding the allowed income limit under SSA guidelines.
When an SSDI or SSI claim is denied, it's usually better to file an appeal instead of starting a new claim. When filing an appeal, the claims process does not have to start all over again with long waiting periods. Filing an appeal provides a protective filing date (the date that the SSA was first informed of the original disability claim. If the appeal is successful, back pay is calculated according to the protective filing date, not the date of the appeal.
In most cases, it takes four to six months for the Social Security Administration (SSA) to process an SSDI application or Supplemental Security Income (SSI). However, if the initial claim is denied, it can take an extra 6 to 8 months on average to get a hearing as part of the appeals process. Even when an appeal is successful, two years could have passed since the initial application was submitted. Knowing how to apply for disability for a child is especially important to a successful claim and a faster timeline to receive benefits.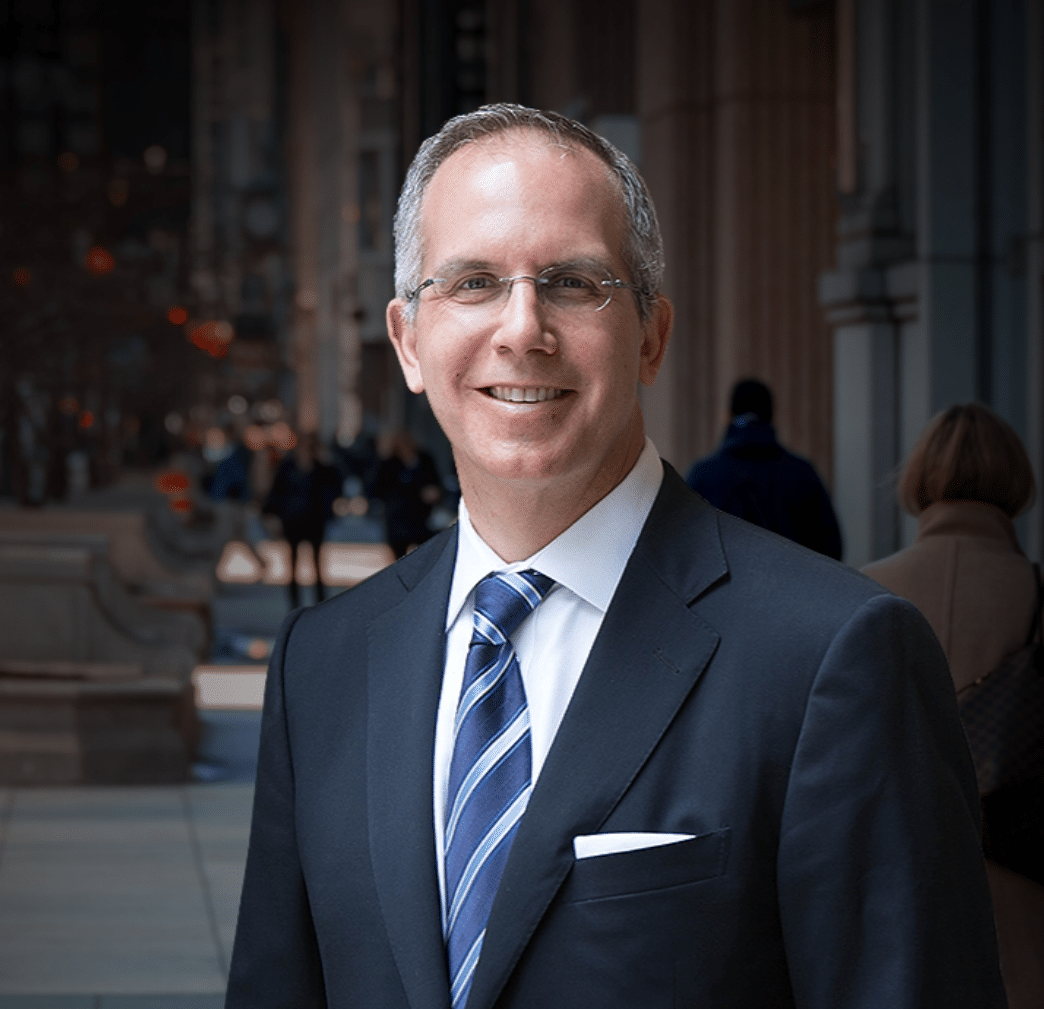 Chicago personal injury and workers' compensation attorney Howard Ankin has a passion for justice and a relentless commitment to defending injured victims throughout the Chicagoland area. With decades of experience achieving justice on behalf of the people of Chicago, Howard has earned a reputation as a proven leader in and out of the courtroom. Respected by peers and clients alike, Howard's multifaceted approach to the law and empathetic nature have secured him a spot as an influential figure in the Illinois legal system.