First place in the Race Judicata t-shirt design competition has always been a goal of the Ankin Law team. This year, the goal was realized. The win was especially sweet after coming up short with a second place finish two years ago. The excitement was captured by the Chicago Daily Law Bulletin in their November 6 article below:
Chicago Daily Law Bulletin
Posted November 6, 2018 10:55 AM
There's never a shortage of flair when it comes to Race Judicata T-shirt designs, and this year's event was no exception. Bryce Downey & Lenkov LLC played off the logo from "Seinfeld," dubbing itself "a firm about everything" instead of "a show about nothing." Dykema Gossett LLC rocked an AC/DC-inspired design; the "Notorious" Illinois MCLE Board took a cue from rapper Biggie Smalls. And McDermott Will & Emery crafted Chicago's skyline into a running shoe.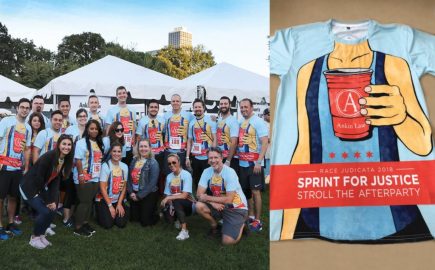 But when it was all said and done, one design stood head-and-shoulders above the rest. Head and shoulders and torso and arms. The first-place shirts drawn up by Ankin Law depict a runner's body up to the neck, offering a drink in a red cup with the words "SPRINT FOR JUSTICE" and "STROLL THE AFTERPARTY" beneath. It looks like something you might see at a beach or a carnival. But for firm founder and managing member Howard H. Ankin, the design is a culmination of a career's worth of races. "When I was a young lawyer, I used to go with some guys that I took my bar exam with, or other young lawyers. We didn't have any T-shirts. We didn't have a tent," he recalled in an interview this week, a few days after the firm received its trophy.
But as time wore on, participation in the annual Chicago Volunteer Legal Services run became a kind of proxy for the firm. Ankin said between 35 and 40 employees — about half the office — joined the fun this time around. And after ordering pizza in previous years, the group kicked it up another notch by having Mexican food catered from Braseritos. "It was like a sign of the times to me," Ankin said. "As the years went on and I kept doing this event, our involvement with how many people ran, and the tent and the T-shirt and getting the food — it all kind of came together."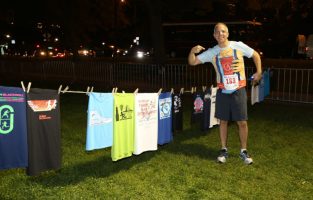 So did the design. Ankin's crew had contended before, notching a second-place finish in the shirt contest two years ago in the midst of the 2016 election. That design featured stick-figure versions of candidates Hillary Clinton and Donald Trump, with the former asking for a delay to check e-mails and the latter hoping not to hit "my wall." This year, however, it wasn't about the presidential race. Or the actual race through Lincoln Park.
"We this year just kind of determined to turn it a little bit on its side — instead of the focus of the T-shirt being about the race itself, to make the focus of the T-shirt about the event itself, meaning the after-party," Ankin said.
The stick-figure motif itself is also a bit of a running gag. The firm first deployed the caricature about five years ago to advertise its personal-injury services. Ankin said it was inspired by "Schoolhouse Rock," an attempt to make difficult legal concepts more digestible to a broader audience. The character also makes a cameo on this year's shirts.
Ankin said the first-place trophy, which arrived last Thursday and is displayed in the firm's front lobby, is "actually like a painting, it's in like a case that you hang on the wall." It displays the firm's winning shirt, along with small plaques displaying the last 10 years of winning designs, he said.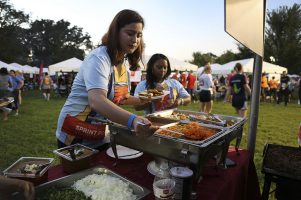 While the recognition is nice, Ankin said he mostly just loves Race Judicata — which in its 24th year assembled 5,100 runners/walkers from 250 teams, each supporting legal aid services. "It's a small commitment of time to give back to the legal community. Then you have law firm bonding that goes with it, everything about it," he said. "I just always found it was one of the better things about the Chicago legal community."
He also emphasized the good work of Chicago Volunteer Legal Services, Race Judicata's organizer. "Whether people are doing it to feel good about being a lawyer, to get training in something that's outside of their current field, whether they're doing it as a diversion from their day-to-day practice, whether it's somebody that's transitioning jobs, or they're in-between jobs, they can go provide legal services to people and stay active," Ankin said. "For a host of reasons, it's good for the Chicago legal community, not only for the clients who are serviced, but the lawyers who help those clients get service."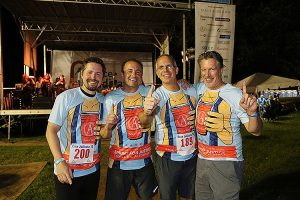 Left: Members of Ankin Law Race Judicata delegation show off their contest-winning T-shirts at the race's afterparty on Sept. 13 in Lincoln Park. The firm's founder, Howard H. Ankin (second from right), said winning the design competition at the fundraiser was a longtime career goal.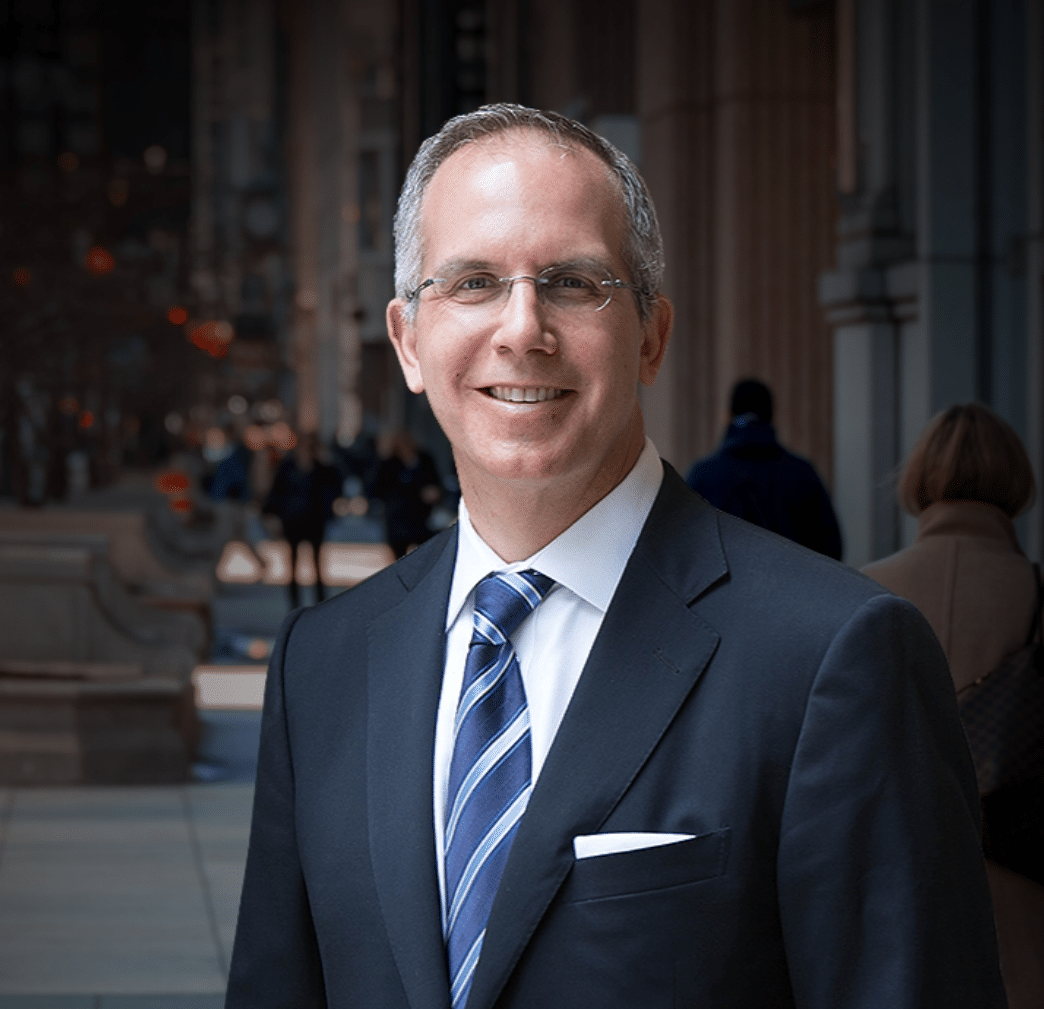 Chicago personal injury and workers' compensation attorney Howard Ankin has a passion for justice and a relentless commitment to defending injured victims throughout the Chicagoland area. With decades of experience achieving justice on behalf of the people of Chicago, Howard has earned a reputation as a proven leader in and out of the courtroom. Respected by peers and clients alike, Howard's multifaceted approach to the law and empathetic nature have secured him a spot as an influential figure in the Illinois legal system.