Ankin Law Office employees were proud to participate in the 89th annual Bud Billiken parade on August 11, 2018. As a double decker bus bearing the Ankin banner traveled the parade route, Ankin Law Office employees greeted children along the way. Recognized as a day of family fun and celebration that kicks off the return to class for Chicago school children, the parade has become an anticipated event in Chicago each August. Families and friends have attended, enjoyed, and participated in the Bud Billiken for generations. Ankin Law Office joined small businesses from all over Chicago in celebrating our youth by marching with them and showing encouragement as they begin another school year.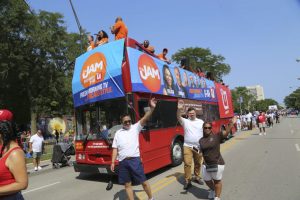 The theme for this year's parade was "Back to School | Back to Work |Back to Life | Back to Bud." The 2018 Parade Grand Marshal was Chicago actor/comedian, Deon Cole. Singer/Songwriter Syleena Johnson made a special guest appearance in the parade. During the parade, numerous teams competed in their respective categories of marching band, cheer, dance, and drill. They were evaluated by a panel of judges based on technique, precision, creativity, enthusiasm and more.
Having education-first roots, the parade takes place every 2nd Saturday in August and is cited as a mark of "back-to-school" – kicking off the school year with high energy and enthusiasm. After the parade, all participants and attendees got together for festivities in the park. The park activities resembled a reunion where everyone was encouraged to get "Back to Bud" as they enjoyed '80s & '90s "Music in the Park" with DJs Phantom, Sundance, Emmanuel, Roc & Titan , along with game trucks, food trucks and other entertainment options.
As the largest African American parade in the United States, the Bud Billiken Parade has grown into an institution with generational participation across the country. It has hosted numerous high-profile celebrities and dignitaries like Oprah Winfrey, President Truman, Duke Ellington, and Barack Obama.